The Day of the Scoot is Nigh

I was very excited to see this new building assigning parking spots to fuel efficient vehicles close to the entrance. Certainly this will incentivize commuters to reconsider their daily driver with all the extra traffic congestion and elevated fuel prices. Altogether, getting a first class parking spot might be the best reason.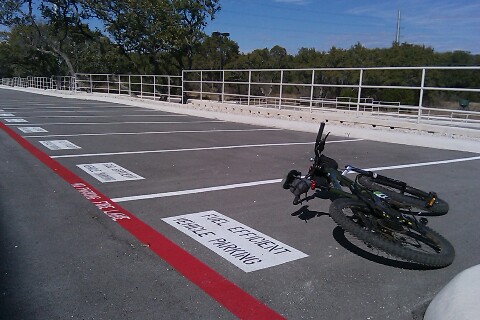 Our typical day starts in San Antonio, although some riders come down from Austin, and runs in a spider web of directions throughout the surrounding country side. There is usually little traffic, plenty of twisties, and lately lots of loose gravel. Now that we are approaching preferred riding weather, we will be doing rides on both days of the weekend depending on schedules and other factors. Although the majority of us have ridden with the Texas Sport Bike Association (TSBA), we are not currently a formal group, but just a bunch of motorcycling enthusiasts that network by word of mouth and get together as often as possible.

If you are interested in riding with us, contact TexasCycleUSA and we can get it going.